Partners & Sponsors
The T.L.C. Fund for Kids! - Benefiting Charity

Established in October 1998, The T.L.C. Fund for Kids obtains funds through charitable contributions and fundraising campaigns in order to aid in the wellness and quality of life for all young people in the Capital Regional District.
An initiative of The OK Radio Group, The T.L.C. Fund has been involved in community projects such as the Beckwith Water Park, the NEED Crisis Centre Youth Line, The Kiwanis House, and The Girls Alternative Program.
The T.L.C. Fund for Kids!. . . because every child needs a little T.L.C.
For more information please visit: http://www.theq.fm/?q=tlc
Victoria Crime Stoppers - Benefiting Charity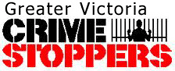 Crime Stoppers is a community based charity that encourages and enables the public to assist the police in solving crimes. Information can be submitted anonymously by calling 1-800-222-8477 (TIPS), or online at www.victoriacrimestoppers.ca, and may lead to a cash reward of up to $2,000. Victoria Crime Stoppers Association, with the support of local media, have been working with the police in this way since 1986, and has been instrumental in solving over 2,300 criminal cases, resulting in the seizure of over $23,000,000 worth of illegal drugs and the return of stolen property valued at almost $5,500,000!